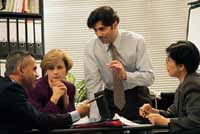 We welcome inquiries regarding your project. Our pricing can be quoted on an hourly basis, or in some cases on a specific project basis.
Services
Cross Cultural Business Consultation
Our cross cultural business consultation utilizes the experience of both International and USA natives, so the leadership and recommendations we offer have "both cultures in focus" for results.

Dick Telke has over 20 years in leading international cross cultural business teams at 3M, and has also worked several years on location in Europe, so he has an excellent grasp of the keys to success in this increasingly important need in modern business activity. Dick was a USA/Japan/China Manufacturing Manager for various technical products at the time of his retirement at 3M.

Junko Ueda is bi-lingual and has worked 12 years in Tokyo in several Japanese businesses, and 10 years in the USA in a Fortune 500 company. Her experiences in Japan and USA provide a good basis for comparison of Japanese and USA communications, and meeting management techniques; and also necessary cultural changes needed for Japanese companies to be successful in the USA or vise versa.

We can offer general orientation, specific project organization, or trouble shooting in both Asian and European business negotiations. Current clients include both US and Japanese companies.